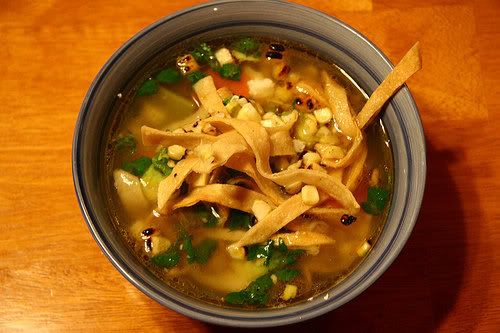 I cut this out of a magazine recently. I don't know which
magazine to give credit too...sorry !
I made this Monday. It was just one of those soup days .
My husband and I loved it. It was alittle too spicey for the
kids though so next time I will substitute the Ro-tel with a
can of diced tomatoes.
you will need:
1 onion
2 cans chicken broth
1 can diced tomatoes with chilies
2 cups chopped cooked chicken
4 sm. tortillas, cut into 1/2" wide strips
2 tbs. chopped fresh cilantro (didn't use in mine)
In pot, heat 1 tbs oil over med-high heat. Add
onion; cook, stirring occasionally until just
softened, 2-3 minutes. Add broth, tomatoes
with their juices and 2 cups of water; bring to a
boil. Cover over low heat, simmer 20 minutes,
adding chicken during the last 5 min. Meanwhile
in a lg. nonstick skillet, heat 2 Tbs of oil over med.
heat. Add tortilla strips in batches; cook, turning
when golden brown, 3 min. Drain on paper towels.
Remove soup from heat. Stir in cilantro. Serve
garnished with shredded cheese, sour cream and
tortilla strips.
Yum!